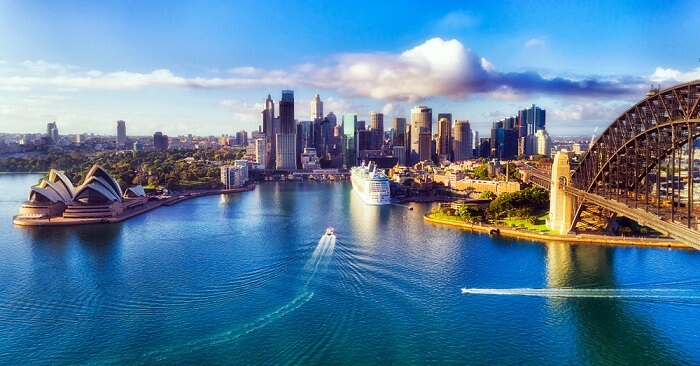 A visit to Sydney can be a truly incredible experience. You can see so many beautiful beaches and you will surely love basically everything the city has to offer, from the good vibes of the locals to the culture. The locals are simply incredibly friendly but this does not mean you can just come without any preparation whatsoever. When you are off the flights to Sydney from Cathay Pacific, after landing in the city, here are the most important things you absolutely have to know. They will simply make your getaway a lot more memorable.
Get An Opal Card
This is one of the first things you have to do after you land in Sydney. The local public transport system has an integrated payment method. It is called Opal and you can use it on busses, light rail, trains, and ferries.
Use the Opal card whenever you use public transport. Just tap it on and off. If you do not do this, you will be charged a whole lot more than you should be. Also, remember that the Opal card has a maximum weekly and daily charge. It can be loaded at convenience stores, on the internet, and at train stations. When you do not need to use public transportation, the card is not needed but if you will take the bus or train, it is a must. Also, it should be mentioned that you can use the bank card for everything, except buses.
Walking Is Recommended
Most of Sydney is actually easily walkable. We are talking about one of the biggest cities of Australia but it is still quite compact when we take into account the international standards. The city center, which includes the CBD (Central Business District) and all the surrounding trendy suburbs can be explored by foot without any problems. In fact, this is one of the best possible ways to get familiar with the area and how the locals spend their time. There is nothing better than simply wandering through the parks and streets of Sydney.
One very interesting walking attraction you absolutely need to consider is crossing the Sydney Harbour Bridge. This is easy to do by foot and you can also consider the Luna Park for your trekking experience. Speaking about trekking, if you are a seasoned one and you want something challenging, the inner-city bushwalks are to be taken into account. You can also consider Sydney's coastal paths.
Ferries Are Important In Sydney
So many of the locals catch ferries every single day in order to get to work. This is actually a public transport form and one of the fastest ways to get from one part of Sydney to another. At the same time, for tourists, it is an incredible way to enjoy the scenic parts of Sydney. You will easily find some ferry trips you can enjoy, some organized by local touring companies to show you some of the parts that you would want to see anyway but faster than on foot or by car.
Allow Yourself Enough Time To Enjoy Sydney
One of the biggest mistakes you could make when you visit Sydney is trying to do everything as fast as possible. Also, you simply cannot rely on the city's public transport as it is possible that some congestions will appear. Buses and trains are actually prone to delays from time to time. The ferries do respect a much tighter schedule but this does not mean they are perfect.
What you have to understand is that Sydney cannot offer you a really easy to use, reliable, and fast transit system. The light rail extension is extensive and does make some parts of the city highly navigable. And there are upgrades being done to the Sydney Central Train station right now. Even so, if we are to take into account the international standards, it is very easy to lose time and end up then losing your next appointment simply because of public transportation problems. You need to plan ahead and give yourself more time than you would in other popular tourist destinations around the world.
Locals Wake Up Early
Most of the best Sydney cafes open at 7 AM. And you should be aware of the fact that some of the very best Sydney walks and scenic routes should be enjoyed as early as possible because the heat can be way too much throughout the day.
Obviously, you do not need to wake up too early but it is something to consider if you want to see what the locals do early in the morning.
Breakfast Is Available The Whole Day
There are several different incredible restaurants in Sydney and you do want to experience the cuisine. This is especially the case when referring to the breakfast part of the day. You can enjoy it at any point of the day. If you want avocado on toast or eggs benny for lunch, it is not a problem. Cafes do tend to oblige. Even if there is a change to the lunch menu, some breakfast items are still available. It is even possible to have breakfast for dinner in most places if this is what you are interested in.
But, remember that restaurants tend to close earlier than you might be used to, usually kitchens being closed at around 9:30 PM. You will most likely not be able to grab your dinner if you missed it.
Shops Close Late
Just as restaurants close their kitchen late, so do many of the shops. In fact, in the CBD area, some of the shops close very early for most tourists, at around 7 PM. And there are also many different places that close at 5 PM. In Sydney, late night shopping means things stay opened until 9 PM. This happens during Thursday. And you need to remember that you have to give yourself the time you need to actually look at what the stores have to offer or you can easily end up not being able to shop anything great. The individual hours are going to vary from one store to the next so it is a very good idea that you are going to avoid all the closed doors.